To start you need to gather your supplies. For the sling you need fabric, wooden dowels, thread, and pins. For mounting it to the wall you need two double rod brackets, some sort of wall safe adhesive, and wood to act as a buffer. I used Oval Rossette fittings.
For the sling portion I just took some fabric sewed it up right sides together, snipped the corners (to reduce bulk), turned it right side out, and top stitched the opening closed. here are some pictures to help you see what I did.
Then once that was all sewn up I used the dowels to measure out the casing.
After I finished up the sling I started on the mounting. I took my wood piece and my rod brackets (that I got at walmart for $.97!) and put them together. If you get a different kind of bracket just attach it to the wood as you would to the wall.
Then I took my UGlu (that I won in a giveaway! Yay!) and attached it to the back of the wood. You can use any kind of wall safe adhesive just make sure that it will hold the weight of the books.
Next I measured the space where I wanted to put the sling and "glued" the wood with the brackets to the wall. I ended up with a great storage solution and a cute addition to my girls' play space!
What do you think would you make this?
I'm linking up at: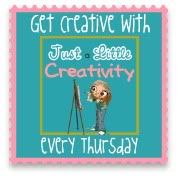 and

and